Joined

Jan 19, 2004
Posts

13,422
Total Time

X>X
http://seekingalpha.com/article/170295-airlines-some-costs-they-can-t-and-shouldn-t-cut
Airlines: Some Costs They Can't - And Shouldn't - Cut

45 comments
by: Robert Herbst October 31, 2009 |
Today, like most every day, just over 44,000 of the world's most experienced airline pilots employed by the 9 largest airlines in the United States will accept full responsibility for over 1.5 million lives sitting on the other side of their locked cockpit doors. Over the next 24 hours, these pilots will make over 13,500 take-offs literally around the world. Through every imaginable type of weather, they will be in command of over 36,000 hours of flight time. And, if today is like most days, you will never hear or read about even one of those flights.
There is a perception that salaries are an important key to discretionary cost-cutting by the airlines. Charts below attempt to put that information in perspective as regards pilots.
So what does it really take to be a commercial pilot?
First, similar to a doctor taking years to get qualified in the operating room, there are no 'entry level' pilot jobs at the major airlines. Before being hired by a major airline a commercial pilot will likely have a college degree and either been trained as a pilot in the military or have spent several years acquiring thousands of flight hours experience on smaller aircraft.
Fully depending on the airline's growth, it could take as many as 20+ years to move from a co-pilot to captain.
Airline pilot wages, benefits and working schedules are based on company seniority. If a pilot leaves one airline he/she will start at the bottom of the next airline's seniority list as a new hire.
Once hired by a major airline, regardless of prior experience, a pilot goes through several weeks of training and testing before being qualified on that airline's specific aircraft operations. Every time he or she moves to a different type of aircraft or moves from co-pilot to captain he will again require more weeks of training and testing.
Pilots have to pass a medical check every six months with an annual EKG required as they get older. Due to very stringent medical requirements, approximately 15% of airline pilots are forced to retire before they reach their mandatory retirement age.
The FAA has strict limits on the maximum number of hours pilots are allowed to fly: The maximums are 1,000 in a year, 100 in a month and 30-32 in 7 days (international flight limits are slightly higher than domestic). In order to actually get an hour of flight time, depending on your seniority and the airline's schedule, you can expect to be away from your base from two to four times actual flight hours. For the most part, a pilot only gets paid when the aircraft is moving. (Note: Pilots do not get premium pay for working holidays or weekends.)
What is a pilot worth?
Actually the important question should be: In the future, is the job going to be worth it for those individuals you want and expect to be responsible for so much?
Since 9/11 and the bankruptcy or reorganization of every legacy airline, pilot hourly pay rates have been reduced to what they were almost 20 years ago. In addition, work rule changes force pilots to work more and longer days than they ever have. Pilots from United (

UAL

), Delta (

DAL

), Northwest (now merged with Delta) and USAir (

LCC

) all lost significant amounts of their pensions as those airlines went through bankruptcy after 9/11.
Recognizing the above, how much of the average passenger airline ticket fare is now used to pay pilots to accept the responsibility they do? Not very much!
Tables below use industry data to calculate the average 'cockpit' wage cost for two pilots per hour of flight for the average passenger fare.
Data considers reported passenger revenue kept by the airline and does not include taxes and airport fees. (USAir data includes America West pro forma. Delta and Northwest merged in October 2008.

Aircraft movement is considered flight time for this report.

)
For year 2008 the average cockpit wage cost per average passenger fare per hour of flight was $3.73. See figure 1 for specific airlines.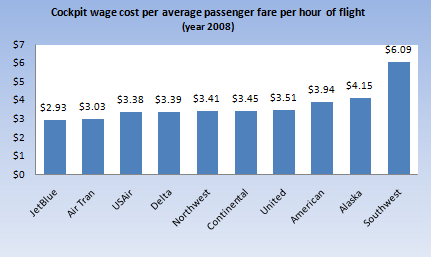 Figure 1
Since 9/11, United, Delta, Northwest and USAir filed bankruptcy. American (

AMR

) and Continental (

CAL

) reorganized outside of bankruptcy in 2003.
In the past seven years, while inflation increased by 20%, the average hourly cockpit wage cost for the average passenger fare dropped by 29%.
See figure 2 for the year over change since year 2002.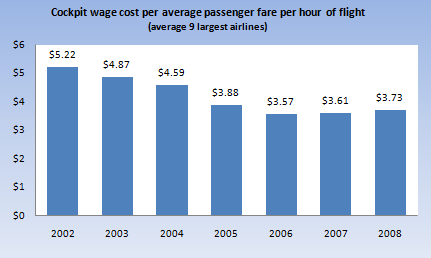 Figure 2
When comparing year 2008 with 2002, Southwest (

LUV

) and JetBlue (

JBLU

) were the only two airlines that had their passenger fare ratio of cockpit wage costs increase. (In 2002, both of these airlines had the lowest fare ratios in the industry.) In figure 3 you can see how the average cockpit wage cost ratio of the average passenger fare per hour of flight changed for each selected airline since year 2002.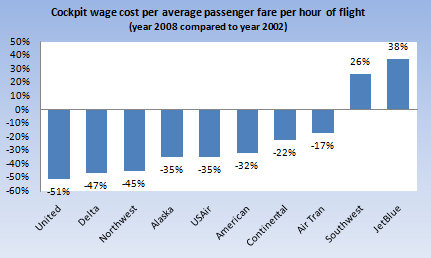 Figure 3
As you can see, on average, the coffee you purchased in the terminal before your flight cost more than what both pilots will earn from your passenger fare for each hour of flight they accept responsibility for your safety.
Whether it is in the operating room or an airline cockpit, if you want the "best" individuals there, you will have to provide the incentives to get them first.
The bottom line questions are: In the future, who do you want replacing these aging and very experienced veteran pilots? Is it worth a few dollars more to attract the "right stuff" to be responsible for such an important job?
Data source: SEC filings and BTS reports